I've been waiting and waiting and waiting for the nesting phase to kick in and it officially has! Perfect timing, given the fact that I'm (still) surrounded by boxes and want this place to be ready before Baby Boy's arrival in 9 weeks. EEK! This past weekend we bought a couch for the family room (our old pullout is in the basement for guests). Do you know how frustrating it is to get comfortable in the evenings and watch the Olympics without a couch?! Basically, I just want to go to bed early every night. Luckily we scored a brand new sectional on clearance at Belfort and it's getting delivered on Wednesday… I can't imagine waiting 6-8 weeks for a couch.
Now, I'm trying to decide on a rug. Our couch is cream colored (I know, I know…kids, ahhh! but we invested in a protection plan that rocks) and I want to incorporate the colors in the fabric that I used to recover this old lamp. I'm specifically drawn to the orange in that fabric. I don't know why, because typically orange is one of my least favorite colors… maybe because I don't look good wearing it.
But for some reason I want it in the rug. So, with a plain-ish cream couch, dark grey walls (those aren't changing because we're renting) and dark wood furniture, I want a fun rug and fun throw pillows. Here are some favorites:
Okay, so it's not colorful, but it's definitely fun and I could add color with my pillows and curtains.
I think this one might be my favorite because it pulls in the blues… however, some of the reviews say it's not as bright as depicted in the photo. That would be a bummer.
I found one like this with much more orange and less grey, but Ben didn't like it, so maybe he'll go for this one. It seems a little less in-your-face.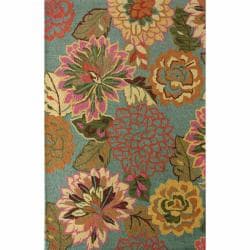 Too much? I just love all the different colors and who doesn't love flowers? I have a feeling Ben will nix this one pretty quickly.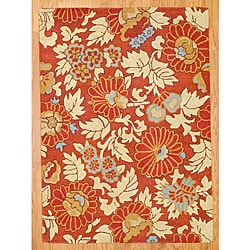 This one might be TOO orangey for me… and I'm kind of getting a 70s vibe from it. But I thought it mixed things up a little bit.
What will the verdict be? Stay tuned.